Scout Addressees
Copyright © 2010 - 2022 by Scouts on Stamps Society International, Inc. All rights reserved.
This is a work in progress. Please email the author with additions and corrections at
The addressees on these covers are Scouting personalities.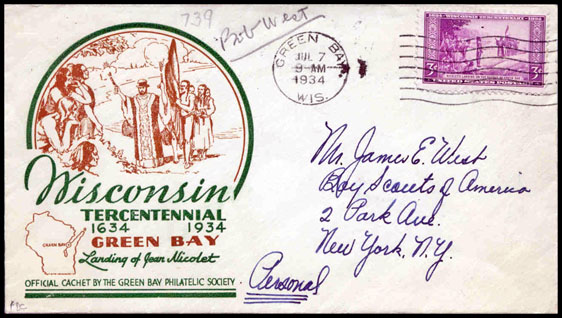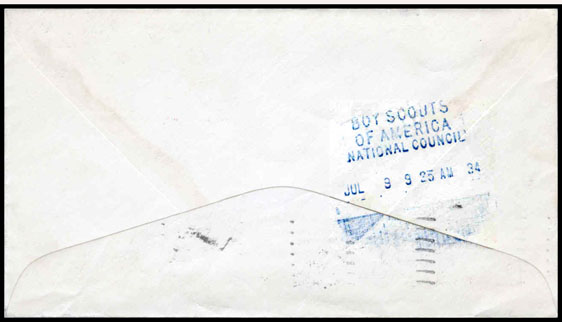 Front Back (inverted) Showing National Council time stamp
To James E. West Chief Scout
07/07/34
Green Bay, WI
FDC of Wisconsin Tercentennial stamp
Printed
Green & brown
Green Bay Philatelic Society
The name in pencil, "Bob West", was James West's son. Bob West was 16 or 17 at the time and a Boy Scout.
See the letter in the
L.
Letters & Mailings
section.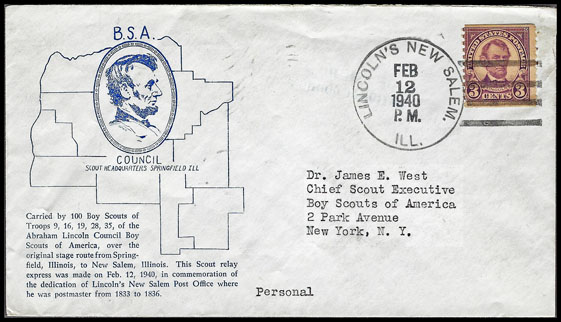 To James E. West Chief Scout
02/14/40
Lincoln's New Salem, IL
This is the 40-1 Lincoln Trail Cover
Printed
Blue
Abraham Lincoln Council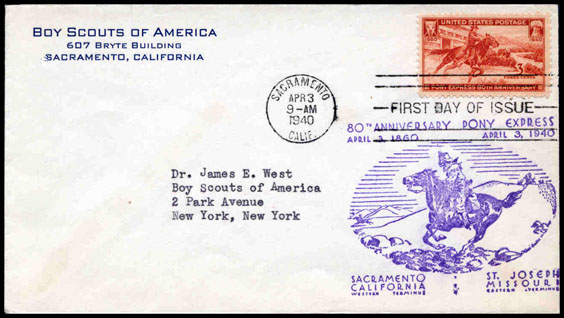 To James E. West Chief Scout
03/04/40
Sacramento, CA
FDC of Pony Express stamp
Rubber stamped
Violet
Corner Card
Boy Scouts of America, Sacramento, California
Printed
Black
---