Paquebots
Copyright © 2010 by Scouts on Stamps Society International, Inc. All rights reserved.
This is a work in progress. Please email the author with additions and corrections at
Paquebots are covers posted on merchant ships while on the high seas. Universal Postal Union mail is accepted with franking from the ship's Flag of Registry, port of origin, port of call, or any combination of the three. One result is that a cover franked with an American stamp can be properly cancelled from most any port on earth.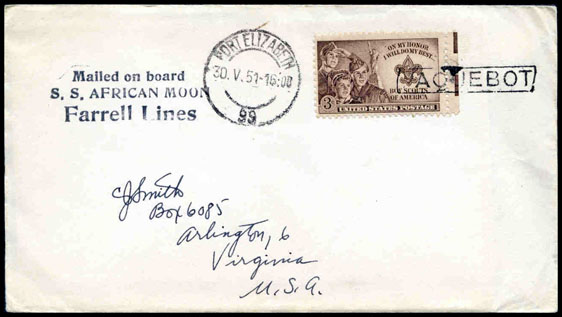 Paquebot 1950 Boy Scout stamp
05/30/51
Port Elizabeth, South Africa
S.S. African Moon Farrell Lines
Arlington, VA address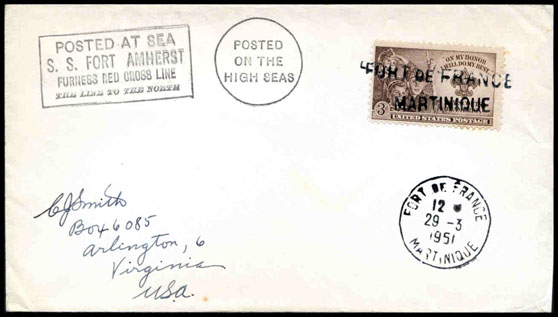 Paquebot 1950 Boy Scout stamp
03/29/51
Port de France, Martinique
S.S. Fort Amherst Furness Red Cross Line
Arlington, VA address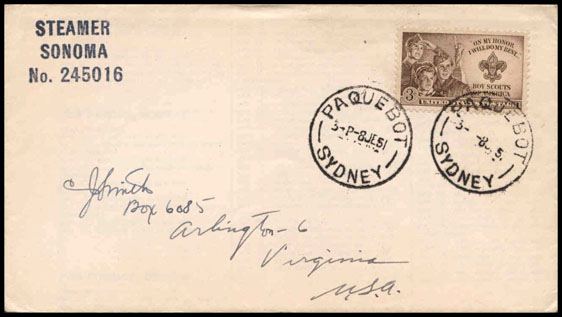 Paquebot 1950 Boy Scout stamp
08/03/51
Paquebot Sydney, Australia
Steamer Sonoma No. 245016
Arlington, VA address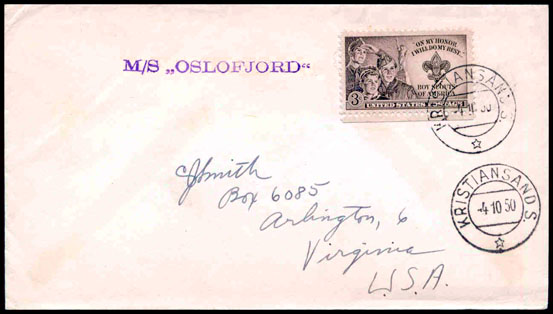 Paquebot 1950 Boy Scout stamp
10/04/51
Kristiansands, Norway
M/S Oslofjord
Arlington, VA address
---
[an error occurred while processing this directive]